Occupy, Resist, Produce – Vio.Me.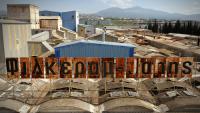 Occupy, Resist, Produce – Vio.Me.
Autor: Ein Film von Dario Azzellini und Oliver Ressler
Länge: 30Minuten
Veröffentlicht September 2015
Vio.Me. in Thessaloniki used to produce industrial glue, insulant and various other chemically derived building materials. In 2010 the workers agreed to be sent on unpaid leave every 4-6 weeks. Then the owners started reducing the workers' wages, assuring them that it was only a temporary measure and they would soon be paid what they were owed. The owners' main argument was that profits had fallen by 15 to 20 per cent. When the owners broke their promise to pay the back wages, the workers went on strike demanding to be paid. In response to their struggle the owners simply gave up the factory in May 2011, leaving 70 unpaid workers behind. Later the workers found out that the firm was still making a profit. The losses were the result of a loan that Vio.Me. had formally granted to the parent company, Philkeram Johnson.

In July 2011 the workers decided to occupy the plant and take their future into their own hands. As Vio.Me. worker Makis Anagnostou explains in the film: "Finding a job within the crisis was impossible. Getting our money was also out of the question, so there was only one solution: we keep the factory, we go on working, we make a living, we save our lives, we save our families, we save our dignity."



In mid-February 2013 Vio.Me. began producing organic cleaning products and organic soap. Vio.Me. formed a cooperative in order to operate legally. However, Vio.Me. does not operate as a traditional cooperative. The workers do not consider the company their property but a common good that should serve the community. In the film the Vio.Me. worker Makis Anagnostou states that: "Our proposal is addressed to the whole of society, because we, as the working class, have proven that we can self-manage a factory, that we can do it ourselves, but our proposal that reaches out to society is that we can all self-manage our lives. This is why it concerns the whole of society. The factory is not a closed space, nor are we the vanguard of the working class. We believe that if the gears of the working class start turning, this might help the other smaller gears within society to turn. This way we could set the clockwork into motion, restart production, put society itself into motion, so society starts establishing assemblies in the neighborhoods, in collectives."
Vio.Me. has "solidarity supporters" paying a monthly fee in advance and getting Vio.Me. products in exchange. Solidarity supporters can also participate in the factory assembly and make proposals. Moreover there is a solidarity assembly supporting the workers' mobilizations.

"Occupy, Resist, Produce – Vio.Me." follows the workers' and their supporters' activities, discussions and initiatives to win back work, income and dignity by building a democratic and self-determined work place.

After "Occupy, Resist, Produce – RiMaflow" (34 min., 2014) and "Occupy, Resist, Produce – Officine Zero," (33 min., 2015), "Occupy, Resist, Produce – Vio.Me." (30 min., 2015) is the third film in a series of short films on occupations of workplaces and production under workers' control in Europe.


Directed and produced by Dario Azzellini and Oliver Ressler
Camera: Thomas Parb
Additional camera: Rudolf Gottsberger
Boom operators: Thanasis Apostolidis, Oliver Ressler
Film editors: Dario Azzellini and Oliver Ressler
Sound design, re-recording mix and color correction: Rudolf Gottsberger
Participants: Dimitris Koumatsioulis, Dimitiris Nikolaidis, Theodoros Karyotis, Makis Anagnostou, Alekos Sideridis, Lianna, Manos Cizek, Vaios Tzachristos, Eleni Dimitriadou, Giorgos Mavrokokkino, Kalliopi, Marius van Voorthuizen, Chalkias, Olga Harpidou, Vasilis Sourlas, Filippos, Giorgos Deligiannis
Special thanks to: Theodoros Karyotis, Marina Sitrin, Manos Cizek
Footage: Giannis Girbas
Video clip: Social Waste. Filmed by Manos Cizek, directed by Dimitra Karyotaki.
The project was funded partly through support of the BMUKK, Aktion Selbstbesteuerung and the Rosa-Luxemburg Foundation.
Thanks to Johannes Kepler University, Linz, Austria for support.
Stills from Occupy, Resist, Produce – Vio.Me.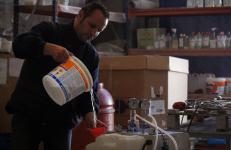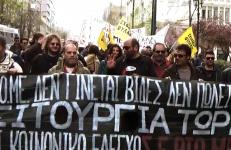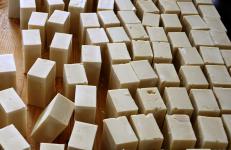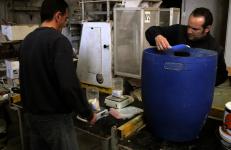 Rezensionen: