Mikhail Karikis, Dario Azzellini and Oliver Ressler Artists' Film International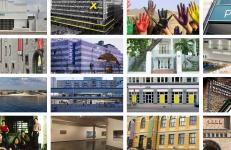 Ain't Got No Fear (2016) by Mikhail Karikis (b. 1975, Greece) was created with a group of boys from the industrial marshland of the Isle of Grain in South East England. With the sound of a neighbouring power plant being demolished as their beat, the boys rap about past memories and possible futures, while questioning notions of territory and authority. Meanwhile, author-filmmaker Dario Azzellini (b. 1967, Germany) and artist Oliver Ressler (b. 1970, Austria) follow how former Italian rail service workers occupied and converted one of their shutdown factories, Officine Zero, into a collective recycling workshop, reflecting on sustainable methods of collaborative working and thinking.
Mikhail Karikis is selected by Whitechapel Gallery. Dario Azzellini and Oliver Ressler are selected by Video-Forum of Neuer Berliner Kunstverein (n.b.k.), Berlin.
http://www.whitechapelgallery.org/exhibitions/artists-film-international...
Lugar de celebración:
Whitechapel Gallery | 77-82 Whitechapel High St | London E1 7QX