Magyar
A Helyzet Műhely és a PERG meghívására Marina Sitrin (MS) New York-ban dolgozó író, aktivista és Dario Azzellini (DA) Berlinben és Caracasban dolgozó művész és dokumentumfilm-rendező a globális mozgalmak helyzetéről és lehetséges jövőjéről tartottak előadást a múlt hónapban. A Gólyában az általuk Caracasban forgatott Comuna Under Construction (2010) című dokumentumfilm vetítése után Meszmann Tibor (MT) beszélgetett velük.

MT: Aktivisták vagytok és akadémikusok. Nemcsak kutatjátok, részt is vesztek társadalmi mozgalmakban. Hogyan látjátok a saját szerepeteket?

Translation into hungarian of the article 'Venezuela: Where the Wealthy Stir Violence While the Poor Build a New Society' published on Creativetimereport, April 28, 2014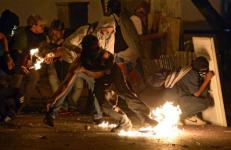 A művész és dokumentumfilmes, Dario Azzellini szerint a tüntetések Venezuelában aljas támadást jelentenek az ország Hugo Chávez elnöksége alatti társadalmi fejlődése ellen, a jómódú régiók anti-chavista erői részéről.