Betriebsbesetzungen
Scop Ti is located in Gémenos, a small town near Marseille, in southern France. The plant was previously owned by Lipton, a subsidiary of Unilever. It used to produce herbal and fruit tea, as well as the 120-year-old local black tea brand Thé de l'Éléphant. In September 2010, Unilever decided to relocate production and the machines to Poland, closing the plant and putting 182 people out of their jobs. The workers, supported by the CGT union, immediately occupied their workplace. Initially, all 182 workers participated in the occupation; after three years, 76 remained active.
Betriebsbesetzungen und Arbeiten in Selbstverwaltung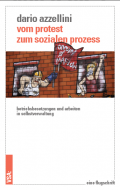 Betriebsbesetzungen mit dem Ziel der Produktion in Selbstverwaltung sind seit der Jahrtausend­wende aus Lateinamerika, vor allem aus Argentinien, bekannt. Im Laufe der aktuellen Krise haben Beschäftigte auch in Europa und Nordamerika erfolgreich Besetzungen von Betrieben durchgeführt, die von der Schließung bedroht waren.