Handbook of Research on the Global Political Economy of Work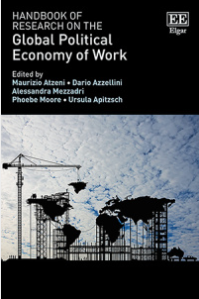 Handbook of Research on the Global Political Economy of Work
Autor:
Editors: Maurizio Atzeni, Dario Azzellini, Alessandra Mezzadri, Phoebe Moore, Ursula Apitzsch
Publisher:
E-Elgar EE
Páginas:
724
Published in
October 2023
https://www.e-elgar.com/shop/usd/handbook-of-resea...
This ground-breaking Handbook broadens empirical and theoretical understandings of work, work relations, and workers. It advances a global, intersectional labour studies agenda, laying the foundations for the politically emancipatory project of decolonising the political economy of work.
Moving beyond traditional disciplinary boundaries, this Handbook provides a comprehensive account of the relations between different forms of work, exploitation, class configuration and worker resistance. With insights from global experts across the social sciences, it examines changes in technology, geographies of production, and the dynamics of the global capitalist political economy to map modern configurations of work. Using ongoing empirical qualitative research, contributors explore key issues such as capital accumulation, migration, digital work, trade unionism and reproductive labour. There is a particular focus on perspectives from the Global South, with in-depth analyses of class and work in countries and regional economic blocs used to explore the dynamics between the local and the global.
Providing an authoritative overview of traditional and current debates, this Handbook will be an essential resource for students and researchers of political economy, industrial relations and the sociology of work, critical management studies, social movement studies, and development.
PART I THEORIES AND CONCEPTS (...)
SECTION C. CONTEMPORARY DEBATES
11. Commoning labour power 148 / Dario Azzellini
12. Social and solidarity economy and self-management 159 / Marcelo Vieta and Ana Inés Heras
13. Operaismo: in search of the political economy of subjectivity 170 / Gigi Roggero
14. The global gig economy: towards a planetary labour market? 177 / Mark Graham and Mohammad Amir Anwar
15. Workers'organisation, class and collective action in precarious times 196 / Maurizio Atzeni
16. Workers and labour movements in the fight against climate change 206 / Linda Clarke and Melahat Sahin-Dikmen
17. Sustainable work: national perspectives and the valorisation of work in Europe 217 / Dario Azzellini, Sebastian Brandl and Ingo Matuschek
(...)