1500 to the Present
International Encyclopedia of Revolution and Protest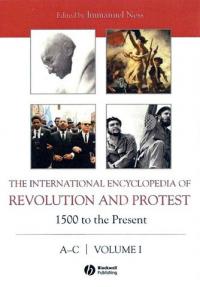 International Encyclopedia of Revolution and Protest
1500 to the Present
Autor:
Immanuel Ness, Brooklyn College (Editor)
Publisher:
Blackwell Publishing
Published in
March 2009
Información adicional:
8 Volumes
Enyclopedia Online
This definitive 8-volume Encyclopedia is a comprehensive print and electronic resource covering the history of protest and revolution over the past 500 years – throughout the modern era of mass movements. From the rebellion against the Peasant's Revolt in Bolivia to the Taiping Uprising in China, and from the Enlightenment-inspired revolutions in Europe and America to the anti-colonial revolts of Pancho Villa and the Mau Mau, it covers every major revolution that has altered societies or changed the course of history on a local, regional, national, and international scale. It presents major uprisings and protest movements, and the ideas, ideologies, and activists that propelled them, chronicles the manner in which they unfolded, traces their roots, goals, tactics, and influence, and evaluates their successes and failures.
Board of Editors 

Dario Azzellini, Johann Wolfgang Goethe - University of Frankfurt, Germany 

Marcelline Block, Princeton University, USA
Jesse Cohn, Purdue University North Central, USA
Clifford D. Conner, City University of New York, USA
Rowena Griem, Yale University Library, USA
Paul LeBlanc, La Roche College, USA 

Amy Linch, Rutgers University, USA

Soma Marik, RKSM Vivekananda Vidyabhavan, India

Ayokunle O. Omobowale, University of Ibadan, Nigeria

Pierre Rousset, International Institute for Research and Education, Netherlands

Beverly Tomek, Wharton County Junior College, USA

Ben Trott, Free University of Berlin, Germany
Below are some initial pre-publication endorsements, which give a sense of what has been accomplished:
"For this work Immanuel Ness has assembled an impressive team of international scholars…Undoubtedly, this will become an essential reference on world revolutionary and protest movements, and an important addition to the collections of academic and larger public libraries. I know I will recommend it to our students and faculty, and will consult it frequently for my own research." Thomas Twiss, Government Information Librarian, University of Pittsburgh

"An indispensable tool for social scientists and historians who wish to be aware of their rich and colourful past. The scope is breathtaking - with a wealth of engagingly presented detail gathered by an army of researchers under the sure guidance of Immanuel Ness. Wiley is to be congratulated." Raymond Markey, Auckland University of Technology, New Zealand

"Finally a scholarly reference work that provides a substantive approach to world history that accounts for the essential role played by popular movements in the processes of revolution, social change and progress. The International Encyclopedia of Revolution and Protest traces the efforts of peasants and workers in the global South and North as they struggle for justice and power from the emergence of European colonialism to the present." Gary Younge, The Guardian and The Nation

"This compilation of historical essays provides a unique contribution to the study of social radicalism. The encyclopedia fills a critical void with its extensive examination of the progression of revolutions and protests throughout the world. The International Encyclopedia of Revolution and Protest is sure to become the definitive reference work in this area of study." Pat Newcombe, Western New England College School of Law Library
"[A] valuable resource for students of social movements and social change." Stephen H. Aby, University of Akron
Some reviews:
"A helpful lexicon provides lists of entries by geography, chronological era, or broad topics such as "Gender and Sexuality," "Foreign Intervention," and "Guerilla Tactics." No comparable work exists in the reference literature." (CHOICE, August 2009)
"A very user-friendly work, and one that can be used effectively at school and college level as well as at more sophisticated research levels … you get a lot for your money, above all if your resources in this cross-disciplinary field are limited and you feel pressure to build them up at one fell swoop … .The arrangement is clear and coverage wide-ranging, making use of the online and print versions equally attractive, each having its distinctive strengths." (Reference Reviews, December 2009)
"Not an area of the world or significant topic has been ignored. All flavors of socialism, communism, and anarchism have been included as well as .... social movements (such as the LGTB movement), labor movements, and the women's movement ... .This wonderful set is highly recommended for larger public and academic libraries ... .Those considering are advised to check www.revolutionprotestencyclopedia.com, which provides a listing of every entry in both print and online versions of this superb work." (Booklist, October 2009 *Starrred Review and Booklist 2009 Editor's Choice)
"Ness… has assembled a team of contributors from around the world to work on what may easily become the definitive reference on the topic of protest… The exhaustive nature and truly impressive scope of this set make it a valuable research tool for scholars. Those who opt for the e-version will benefit from regular revisions and new entries added annually, links to other online resources, and open URL linking."
"The exhaustive nature and truly impressive scope of this set make it a valuable research tool for scholars." (Library Journal, May 2009)