Self-Organised Workers' Struggles in the Twenty-First Century
The Class Strikes Back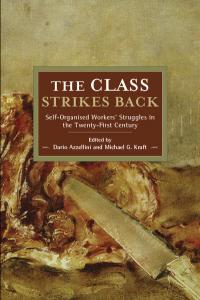 The Class Strikes Back
Self-Organised Workers' Struggles in the Twenty-First Century
Autor:
Dario Azzellini and Michael G. Kraft (Eds.)
Publisher:
Haymarket
Páginas:
321
Published in
January 2019
Book at Haymarket.com
The Class Strikes Back examines a number of radical, twenty-first-century workers' struggles. These struggles are characterised by a different kind of unionism and solidarity, arising out of new kinds of labour conditions and responsive to new kinds of social and economic marginalisation. The essays in the collection demonstrate the dramatic growth of syndicalist and autonomist formations and argue for their historical necessity. They show how workers seek to form and join democratic and independent unions that are fundamentally opposed to bureaucratic leadership, compromise, and concessions.
Specific case studies dealing with both the Global South and Global North assess the context of local histories and the spatially and temporally located balance of power, while embedding the struggle in a broader picture of resistance and the fight for emancipation.
Contributors are: Anne Alexander, Dario Azzellini, Mostafa Bassiouny, Antonios Broumas, Anna Curcio, Demet S. Dinler, Kostas Haritakis, Felix Hauf, Elias Ioakimoglou, Mithilesh Kumar, Kari Lydersen, Chiara Milan, Carlos Olaya, Hansi Oostinga, Ranabir Samaddar, Luke Sinwell, Elmar Wigand.
Rezensionen:
Attachements

rez_azzellini_arbeit_bewegung_2020_1.pdf

the class strikes back review Labor 2021 Pizzolato.pdf