5 Fabriken - Arbeiterkontrolle in Venezuela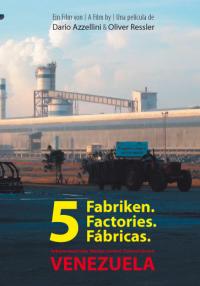 5 Fabriken - Arbeiterkontrolle in Venezuela
Autor: Dario Azzellini & Oliver Ressler
Length: 81Minuten
Published in 2006
Información adicional: Sprachen (Original und Englische Untertitel)
In ihrem nach "Venezuela von unten" zweiten Film über die politischen und sozialen Veränderungen in Venezuela richten Azzellini und Ressler in "5 Fabriken – Arbeiterkontrolle in Venezuela" den Fokus auf den industriellen Sektor. Die Veränderungen im Produktionsbereich Venezuelas werden anhand von fünf Großunternehmen in unterschiedlichen Regionen dargestellt: eine Aluminiumhütte, ein Textilunternehmen, eine Tomatenfabrik, eine Kakaofabrik und eine Papierfabrik. Von den Beschäftigten erkämpft und durch Kredite der Regierung unterstützt, breiten sich in Venezuela verschiedene Formen der Mit- und Selbstverwaltung aus. "Die Versammlung ist praktisch der Chef des Unternehmens", erklärt Rigoberto López von der Textilfabrik "Textileros del Táchira" in San Cristóbal vor dampfenden Wannen. Und die Spulmaschinenarbeiterin Carmen Ortíz fasst die Erfahrung so zusammen: "In der Kooperative zu arbeiten ist viel besser, als für andere zu arbeiten, denn das ist wie ein Sklave der anderen zu sein."

Die in den fünf Fabriken an den Produktionsorten aufgenommen ProtagonistInnen geben Einblicke in alternative Organisationsweisen und Modelle von Arbeiterkontrolle. Die Mechanismen und Schwierigkeiten der Selbstverwaltung werden ebenso geschildert wie die profanen Abläufe der Produktion. Die abgebildeten maschinellen Arbeitsprozesse könnten als Metapher für die Wunschmaschine "bolivarianischer Prozess" gelesen werden und die Hoffnungen und Sehnsüchte, die dieser bei den ArbeiterInnen weckt.
Die Situation in den fünf Fabriken ist unterschiedlich, gemeinsam ist die Suche nach besseren Produktions- und Lebensmodellen. Dabei stehen nicht nur konkrete Verbesserungen für die ArbeiterInnen im Vordergrund. Aury Arocha, Laboranalystin der Ketchup-Fabrik "Tomates Guárico", betont, der Unterschied von "Unternehmen sozialer Produktion" zu kapitalistischen Unternehmen bestehe darin, dass die Kooperativen "für die Gemeinschaft arbeiten, im Sinne der Gesellschaft arbeiten." Und Carlos Lanz, Präsident der zweitgrößten Aluminiumfabrik Venezuelas, Alcasa, formuliert als Schlüsselfrage: "Wie macht ein Unternehmen im Rahmen des Kapitalismus Druck in Richtung Sozialismus?"
Der Film schließt mit einer längeren Sequenz aus einer Leitungssitzung von Alcasa, in der Diskussionen über die praktizierte Mitverwaltung in dem 2.700 ArbeiterInnen zählenden Unternehmen und die angestrebten Veränderungen der Produktionsverhältnisse geführt werden.
Der Film ist in der spanischen Originalfassung, mit deutschen oder englischen Untertiteln verfügbar (ab Anfang Mai 2006).
Die englische Fassung "5 Factories – Worker Control in Venezuela" wird von 26.03. bis 28.05.2006 in einer installativen Fassung aus sechs Videoprojektionen die aus sechs Einzelausstellungen bestehende Matrix-Reihe "Now-Time Venezuela: Media Along the Path of the Bolivarian Process" des Berkeley Art Museums (USA) eröffnen (Kurator: Chris Gilbert).
Konzept, Interviews, Schnitt, Realisation: Dario Azzellini & Oliver Ressler
Kamera: Volkmar Geiblinger
Produktionsassistenz in Venezuela: Eduardo Daza
Bildbearbeitung: Markus Koessl
Tonbearbeitung: Rudi Gottsberger
GesprächspartnerInnen: José Luis Acosta, Luis Alfonso, Luis Alvarez, Aury Arocha, Zulay Boyer, Carolina Chacón, Eleuterio Córdova, Hugo Favero, Manrique Gonzales, Dulfo Guerrero, Rowan Jiménez, Carlos Lanz, Marivit Lopez, Rigoberto López, Willys Lugo, Gonzalo Maestre, Luis Mata Castillo, Domingo Meléndez, Edith Mendoza, José Gregorio Moy, Carmen Ortíz, Alexander Patiño, Santos Pérez, Juana Ruíz, Elio Sayago, José del Carmen Tapias, Leslie E. Turmero
Gefördert durch:

Stills from 5 Fabriken - Arbeiterkontrolle in Venezuela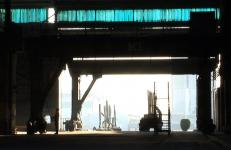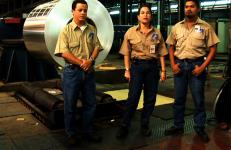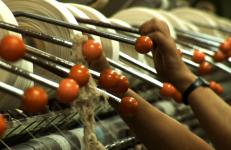 Related Links:
Rezensionen: