III Seminario Internacional CIVIPOL: "Movimientos sociales y Europa"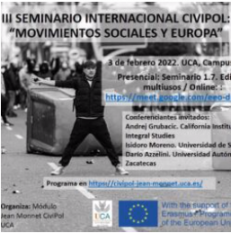 Universidad de Cádiz (UCA) y Civil society organisations and policy making in the EU (CIVIPOL):
III SEMINARIO INTERNACIONAL CIVIPOL: "MOVIMIENTOS SOCIALES Y EUROPA" / Modalidad: semi-presencial y Online, 03.02.22
Conferencistas invitados:
_ Adrej Gubracic. California Institute for Integral Studies
_ Isidoro Moreno. Catedrático Emérito de Antropología Social. Universidad de Sevilla
_ Dario Azzelini. Universidad Autónoma de Zacatecas y Cornell University.
Conferencia: Empresas recuperadas por sus trabajadorxs en Europa (12:00- 13:00), Dario Azzelini