Left Forum, The Resistance: Cooperatives - path to a different society or alternative business model? Chances and risks of workers' self-management in capitalism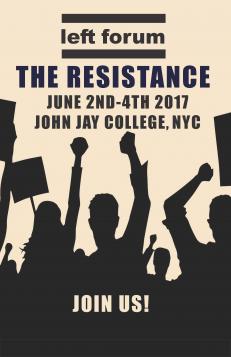 Room:1.114
Timeslot:
SUNDAY June 4th Session 6: 12:00pm - 1:50pm
Abstract:
With the economic crisis of 2008 and in the aftermath of the Occupy movement workers' cooperatives have re-entered conversations among community organizers, urban planners, community development practitioners, business, and organized labor. The meanings and purpose of economic democracy, however, differ in all of these contexts. In this workshop we want to discuss about the potential of workers' cooperatives in putting forward different values that aim at a more just and participatory politics, economics, and society. Are cooperatives and workers' controlled companies a viable alternative to the contemporary capitalist system? What are the contradictions and risks worker cooperatives face in a capitalist system? Which characteristics and practices can strengthen workers cooperatives and worker controlled companies as an alternative to capitalist businesses and which ones put them at risk to be only a more democratic capitalist business? After brief overviews on international experiences of worker controlled companies, the historical experiences in the US and the concrete situation of cooperatives in NYC we want to discuss these questions with all participants of the workshop.
Chair/First Facilitator/Speaker First Name:
Chair/First Facilitator/Speaker Last Name:
Chair/First Facilitator/Speaker Affiliation:
Chair/First Facilitator/Speaker Biography:
Dario Azzellini, activist, professor, researcher and documentary director, focuses with his research and writing on worker's and local self-management, and social movements. He published several books, journal articles and documentaries. His latest book is Communes and Workers' Control in Venezuela: Building 21st Century Socialism from Below (Brill 2017) and he co-authored They Can't Represent Us. Reinventing Democracy From Greece to Occupy (Verso 2014). He is co-editor of Ours to Master and to Own: Worker Control from the Commune to the Present (Haymarket 2011) and the editor of An Alternative Labour History: Worker Control and Workplace Democracy (Zed Books 2015). Azzellini is a founding member of workerscontrol.net. As documentary filmmaker he has been filming in Latin America and Europe. Together with Oliver Ressler he is producing Occupy, Resist, Produce, a series of documentaries on recuperated factories under workers control in Europe.
Speaker 1/Second Facilitator First Name:
Speaker 1/Second Facilitator Last Name:
Speaker 1/Second Facilitator Affiliation:
Speaker 1/Second Facilitator Biography:
Evan Casper-Futterman is a 3rd generation New Yorker born in the Bronx and raised in Manhattan. He earned a master's degree in Urban and Regional Planning from the University of New Orleans in 2011, and was a White House Intern in the Spring of 2012 in the Domestic Policy Council's Office of Urban Affairs. In the summer of 2013 he was a Research Fellow for the US Federation of Worker Cooperatives. He is currently a Doctoral Candidate (ABD) at the Bloustein School of Urban Planning and Public Policy at Rutgers University, studying economic democracy and policy development.
Speaker 2/Third Facilitator First Name:
Speaker 2/Third Facilitator Last Name:
Speaker 2/Third Facilitator Affiliation:
Speaker 2/Third Facilitator Biography:
Rebecca Lurie currently works for the City University of NY at the Murphy Institute for Labor and Urban Studies. She began her working career as a union carpenter and transitioned into worker education through the union's apprenticeship program and the construction industry. Using a sector approach for understanding industries and their employment needs, and dedicated to inclusive community development, Rebecca has collaborated on numerous community economic development projects in NYC. She serves on the Boards of the Bronx Cooperative Development Initiative and the Brooklyn Society for Ethical Culture. She holds a Master's in Organizational Change Management from The New School, a certificate in Adult Occupational Education from CUNY and is certified in Permaculture Urban Design.
Panel/Workshop Organizer First Name:
Panel/Workshop Organizer Last Name:
Panel/Workshop Organizer Affiliation:

https://www.leftforum.org/lf-2017-featured-speakers-announcement-1
Event-Venue:
ohn Jay College, NYC | 899 10th Avenue (btwn 58th and 59th St) | New York City, NY 10019 | EEUU