Poder Obrero. Autogestión y control obrero desde La Comuna hasta el presente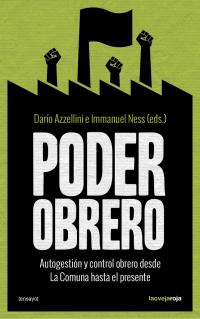 Compilación y estudio de experiencias de control obrero a lo largo de todo el planeta. Debate teórico y experiencia práctica en defensa de una práctica obrera revolucionaria.
Desde los albores de la era industrial, la mejor y casi única arma de lxs trabajadorxs en la defensa de sus intereses ha sido la acción colectiva. Gracias a ella, a lo largo del último siglo y medio y en prácticamente toda la geografía del planeta se han repetido experiencias de ocupación de fábricas, constitución de consejos obreros y democratización de los centros de trabajo.
A lo largo de este volumen documentaremos algunas de esas experiencias. Expondremos primero el debate teórico que las ha acompañado para sumergirnos enseguida en luchas desarrolladas tanto en sociedades capitalistas como bajo formas de socialismo de Estado. Desde finales del siglo XIX hasta las primeras décadas del XXI recorreremos diferentes manifestaciones de un movimiento que hasta el momento no ha recibido la atención que merece. Nuestro objetivo está claro: ofrecer material para el debate entre lxs militantes sobre la potencialidad de las estrategias de no delegación y de gestión directa de los medios de producción. Porque en última instancia, creemos que sólo sobre esas bases podremos construir formas nuevas, inéditas, de democracia obrera.
Dario Azzellini: Doctor en Ciencias Políticas y Sociología y profesor de la Universidad Johannes Kepler Linz (Austria). Lleva varios años estudiando los procesos de transformación social contemporáneos, investigaciones que se han plasmado en títulos como Communes and Workers' Control in Venezuela (Brill, 2016) o El negocio de la guerra (más de 10 ediciones diferentes alrededor del mundo, entre ellas Txalaparta, 2005). Junto a Marina Sitrin ha publicado Occupying Language (Zucotti Park Press, 2012) y They Can't Represent Us: Reinventing Democracy from Greece to Occupy (Verso, 2014).

Immanuel Ness: La bibliografía de este investigador de los movimientos de resistencia obrera incluye obras como Urban Revolt: State Power and the Rise of People's Movements in the Global South (Haymarket, 2017), Southern Insurgency: The Coming of the Global Working Class (Pluto Press, 2015), Guest Workers, Corporate Despotism and Labor Resistance (University of Illinois Press, 2011), Immigrants, Unions, and the U.S. Labor Market (Temple University Press) y Trade Unions and the Betrayal of the Unemployed (Garland, 1998). Es editor de la revista trimestral WorkingUSA: The Journal of Labor and Society.
Rezensionen:
Attachements

Reseña_Poder Obrero_Viento Sur 2018.pdf