Occupy, Resist, Produce – Vio.Me.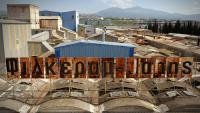 Occupy, Resist, Produce – Vio.Me.
Author: Ein Film von Dario Azzellini und Oliver Ressler
Length: 30Minuten
Published in September 2015
Additional Info: Sprachen (Original und Englische Untertitel)
Vio.Me. in Thessaloniki produzierte früher Industriekleber, Isoliermaterial und weitere chemische Baumaterialien. 2010 gaben die ArbeiterInnen ihr Einverständnis, alle vier bis sechs Wochen in unbezahlten Urlaub geschickt zu werden. Dann reduzierte der Fabrikbesitzer die Löhne der ArbeiterInnen mit der Zusage, es handele sich nur um eine vorübergehende Maßnahme und die Zahlung der Restsumme würde bald erfolgen. Als Hauptargument für die Maßnahme führte er an, die Profite seien um 15-20 Prozent gefallen. Als schließlich die ausstehenden Löhne nicht bezahlt wurden, traten die Beschäftigten in den Streik. Als Reaktion auf den Arbeitskampf gab der Besitzer die Fabrik im Mai 2011 einfach auf und ließ 70 unbezahlte ArbeiterInnen zurück. Später fanden diese heraus, dass das Werk immer mit Profit produzierte. Die Verluste, die zur Schließung führten, lagen an einem Kredit, den Vio.Me. formal dem Mutterunternehmen Philkeram Johnson gegeben hatte.

Im Juli 2011 beschlossen die ArbeiterInnen, ihre Zukunft in die eigenen Hände zu nehmen und besetzten das Werk. "Mitten in der Krise einen neuen Job zu finden, war unmöglich. Unser Geld zu bekommen, war ebenfalls illusorisch. Also gab es nur eine Lösung: Wir behalten die Fabrik, wir arbeiten weiter, wir verdienen uns unseren Lebensunterhalt, wir retten unsere Leben, wir retten unsere Familien, wir retten unsere Würde", so Vio.Me.-Arbeiter Makis Anagnostou im Film.


Mitte Februar 2013 begann Vio.Me. mit der Produktion biologischer Reinigungsprodukte und Seifen. Vio.Me. konstituierte sich als Kooperative, um legal arbeiten zu können. Dennoch funktioniert Vio.Me. nicht wie eine traditionelle Kooperative. Die Arbeiter betrachten das Unternehmen nicht als ihr Eigentum, sondern als ein Gemeingut, das der Gemeinschaft dienen sollte. Vio.Me.-Arbeiter Makis Anagnostou erklärt: "Unser Vorschlag richtet sich an die gesamte Gesellschaft. Wir als Arbeiterklasse haben bewiesen, dass wir eine Fabrik selbstverwalten können. Unser Vorschlag an die gesamte Gesellschaft lautet: Wir können alle unsere Leben selbstverwalten. Das ist etwas, das die gesamte Gesellschaft betrifft. Die Fabrik ist weder ein geschlossener Raum, noch sind wir die Avantgarde der Arbeiterklasse. Wir denken aber, dass wenn die Räder der Arbeiterklasse anfangen sich zu drehen, dies kleineren Rädern in der Gesellschaft helfen kann, sich auch zu drehen. So könnten wir das Uhrwerk wieder in Betrieb setzen, die Produktion neu starten, die Gesellschaft selbst in Bewegung setzen, so dass die Gesellschaft beginnt, sich in Versammlungen in der Nachbarschaft zu organisieren, in Kollektiven."
Vio.Me. verfügt über "solidarische UnterstützerInnen", welche monatlich einen finanziellen Beitrag leisten und im Austausch dafür Vio.Me.-Produkte erhalten. Die solidarischen UnterstützerInnen können auch an den Fabrikversammlungen teilnehmen und Vorschläge unterbreiten. Darüber hinaus existiert eine Solidaritätsversammlung zur Unterstützung der Mobilisierungen der ArbeiterInnen von Vio.Me..

"Occupy, Resist, Produce – Vio.Me." folgt den Arbeitern und UnterstützerInnen in ihren Aktivitäten, Diskussionen und Initiativen, um mit der Schaffung eines demokratischen und selbstbestimmten Arbeitsplatzes, Arbeit, Einkommen und Würde zurückzugewinnen.

Nach "Occupy, Resist, Produce – RiMaflow" (34 Min., 2014) und "Occupy, Resist, Produce – Officine Zero," (33 Min., 2015), ist "Occupy, Resist, Produce – Vio.Me." (30 Min., 2015) der dritte Film in einer Serie von kurzen Filmen über Betriebsbesetzungen und Produktion unter ArbeiterInnenkontrolle in Europa.


Regie und Produktion: Dario Azzellini and Oliver Ressler
Kamera: Thomas Parb
Weitere Kamera: Rudolf Gottsberger
Tonassistenten: Thanasis Apostolidis, Oliver Ressler
Schnitt: Dario Azzellini and Oliver Ressler
Sound-Design, Mischung und Farbkorrektur: Rudolf Gottsberger
TeilnehmerInnen: Dimitris Koumatsioulis, Dimitiris Nikolaidis, Theodoros Karyotis, Makis Anagnostou, Alekos Sideridis, Lianna, Manos Cizek, Vaios Tzachristos, Eleni Dimitriadou, Giorgos Mavrokokkino, Kalliopi, Marius van Voorthuizen, Chalkias, Olga Harpidou, Vasilis Sourlas, Filippos, Giorgos Deligiannis
Dank an Theodoros Karyotis, Marina Sitrin, Manos Cizek
Footage: Giannis Girbas
Videoclip: Social Waste. Gefilmt von Manos Cizek, Regie: Dimitra Karyotaki.
Das Projekt wurde in Teilen von BMUKK, Aktion Selbstbesteuerung und Rosa-Luxemburg-Stiftung gefördert.
Dank für die Unterstützung an Johannes Kepler Universität Linz.


Stills from Occupy, Resist, Produce – Vio.Me.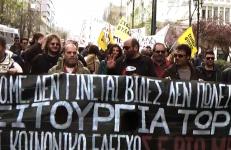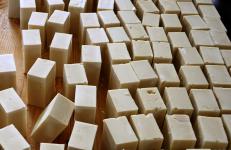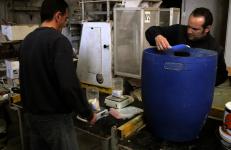 Related Links:
Rezensionen: