Ocupar, resistir, producir - Vio.Me.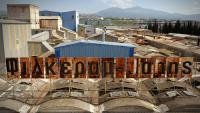 Ocupar, resistir, producir - Vio.Me.
Autor: Ein Film von Dario Azzellini und Oliver Ressler
Length: 30Minuten
Published in September 2015
Vio.Me. en Tesalónica fabricaba pegamento industrial, aislamientos y otros materiales de construcción químicos. En 2010 los trabajadores y trabajadoras fueron enviados cada 4 ó 6 semanas de vacaciones sin cobrar sueldo. Cuando en julio de 2011 el propietario dejó de pagar los salarios totalmente, los trabajadores decidieron ocupar la planta y hacerse cargo de su propio futuro. En febrero de 2013 Vio.Me. empezó a producir productos de limpieza orgánicos y jabón orgánico y se constituyó en cooperativa con el fin de poder operar legalmente. Sin embargo, Vio.Me. no funciona como una cooperativa tradicional. Los trabajadores no consideran que la empresa sea de su propiedad sino un bien común que debe servir a la comunidad. La empresa tiene "colaboradores solidarios" que pagan un cantidad mensual por adelantado obteneniendo a cambio productos Vio.Me. La asamblea solidaria también apoya las movilizaciones de los trabajadores.
Dirigido y producido por Dario Azzellini y Oliver Ressler
Cámara: Thomas Parb
Ayudantes de cámara: Rudolf Gottsberger, Bernhard Mayr
Operarios: Thanasis Apostolidis, Riccardo Arrigoni, Emanuel Balbinot, Roberto Polenta, Oliver Ressler
Editores del film: Dario Azzellini y Oliver Ressler
Diseñador de sonido, regrabación, mezclador y corrector de color: Rudolf Gottsberger
Nuestro especial agradecimiento a: Alioscia Castronuovo, Manos Cizek, Elisa Gigliarelli, Theodoros Karyotis, Gigi Malabarba, Francesco Raparelli, Marina Sitrin, Bert Theis, Pina Toscano y a todos los trabajadores que exigen trabajo y dignidad mediante la creación de un puesto de trabajo democrático y auto-gestionado.
Secuencias: Giannis Girbas, Social Waste
El proyecto fue parcialmente financiado con la ayuda de los siguientes organismos: Austrian Science Fund (FWF) AR 183-G21, Neuer Berliner Kunstverein (n.b.k.), Centro Andaluz de Arte Contemporáneo – CAAC, BKA, Aktion Selbstbesteuerung y la Rosa-Luxemburg Foundation.
Gracias a Johannes Kepler University, Linz, Austria, por su apoyo.
After "Occupy, Resist, Produce – RiMaflow" (34 min., 2014) and "Occupy, Resist, Produce – Officine Zero," (33 min., 2015), "Occupy, Resist, Produce – Vio.Me." (30 min., 2015) is the third film in a series of short films on occupations of workplaces and production under workers' control in Europe.


Stills from Ocupar, resistir, producir - Vio.Me.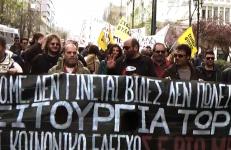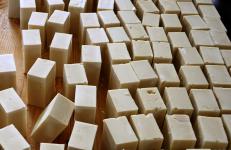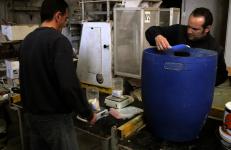 Rezensionen: