Dario Azzellini
Communes in Venezuela in times of crisis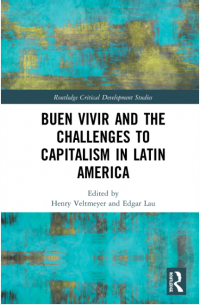 This book explores the battleground between neoliberal capitalist development processes in Latin America and the challenges to these systems that can be found through innovative community-driven buen vivir/vivir bien initiatives.
In the current climate of worldwide capitalist development, Latin America is caught between left-leaning proposals for progressive policies towards a more inclusive form of development, and the re-emergence of harsh austerity measures, neoliberal reforms and right-wing populism. Divided into two parts, this book first provides a retrospective analysis of the advance of resource-seeking 'extractive' capital across the continent since the 1990s. The second part goes on to focus on forward-looking challenges to neoliberal capitalist development, focusing in particular on the indigenous notion of buen vivir/vivir bien – the concept of 'living well' in social solidarity and harmony with nature. Drawing on cases in Mexico and Venezuela, the book argues that it will be through these new approaches to social change that we will move beyond development as we know it towards a more inclusive form of 'postdevelopment'.
Looking hopefully towards this future of development, this collection offers an essential analysis of the vortex of social change currently consuming Latin America and will be key reading for advanced scholars and researchers in the fields of Development Studies, Latin America Studies, Politics, and Social Change.