Arte
Interview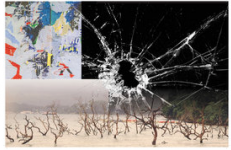 "How do you neutralize a revolutionary?... you give him an office with air conditioning." This was one of several humorous anecdotes that Dr. Azzellini shared with me during our interview. Dr. Azzellini's eyes twinkled with amusement as he recounted this joke someone once told him. His incisive and dynamic way of thinking and conceptualizing ideas and connections increasingly became evident during our interview.
Dario Azzellini and Oliver Ressler at the Nottingham Contemporary
What are the reference points for contemporary art in a global economy that creates enormous wealth as well as widening inequality. Our opening conference explores the many strategies artists use to reveal the processes and human consequences of the globalised market economy. Introduced by the exhibition's co-curator T.J. Demos – writer, curator and lecturer at University College, London – the conference includes artists George Osodi, Ursula Biemann, Dario Azzellini, Oliver Ressler and Bureau d'Études.
You are missing some Flash content that should appear here! Perhaps your browser cannot display it, or maybe it did not initialize correctly.