Ocupación
Translation into Italian of the article "Workers' control at Fralib: the brand with the Elephant" published on roarmag, May 1, 2014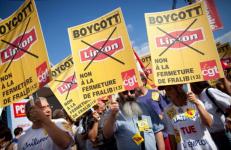 In Francia ci sono due casi di fabbriche recuperate occupate dai lavoratori nel corso della crisi attuale. Una è la fabbrica di gelati Pilpa, che ha appena avviato la produzione di gelati e yogurt biologici come società di proprietà dei lavoratori e gestita da essi dopo una lunga lotta. L'altra è la produttrice di tè Fralib. Entrambe erano state chiuse dalle loro gigantesche proprietarie multinazionali per delocalizzare la produzione.

When the big multinational Unilever shut down a tea processing plant in the south of France, the workers reacted immediately by occupying their factory.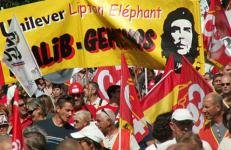 In France there are two cases of recuperated factories occupied by workers during the current crisis. One is the Pilpa Ice Cream Factory, which just started producing organic ice cream and yoghurt as a worker-owned and administered company after a long-lasting struggle. The other is the Fralib Tea Factory. Both were closed by their huge multinational owners to relocate production.