Occupation
A könyv előszava "They Can't Represent Us! Reinventing Democracy from Greece to Occupy"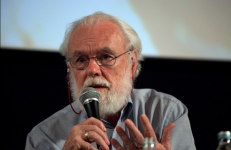 David Harvey 2014-es Ők nem képviselhetnek bennünket c. cikkében amellett érvel, hogy a kapitalizmus nyerteseit rá kell kényszeríteni, hogy megfizessék a környezetre és a társadalomra mért károkat. Világszintű mozgalom-viziójának fontos pillére a tüntetés mint eszköz a civilek kezében.
Eredetileg megjelent előszóként Marina Sitrin és Dario Azzellini: They Can't Represent Us! Reinventing Democracy from Greece to Occupy. (Ők nem képviselhetnek bennünket! A demokrácia újra-feltalálása Görögországtól az 'Occupy' mozgalomig.) London–New York: Verso, 2014.

Vio.Me. en Tesalónica fabricaba pegamento industrial, aislamientos y otros materiales de construcción químicos. En 2010 los trabajadores y trabajadoras fueron enviados cada 4 ó 6 semanas de vacaciones sin cobrar sueldo. Cuando en julio de 2011 el propietario dejó de pagar los salarios totalmente, los trabajadores decidieron ocupar la planta y hacerse cargo de su propio futuro. En febrero de 2013 Vio.Me.

Vio.Me. in Thessaloniki used to produce industrial glue, insulant and various other chemically derived building materials. In 2010 the workers agreed to be sent on unpaid leave every 4-6 weeks. Then the owners started reducing the workers' wages, assuring them that it was only a temporary measure and they would soon be paid what they were owed. The owners' main argument was that profits had fallen by 15 to 20 per cent. When the owners broke their promise to pay the back wages, the workers went on strike demanding to be paid.